Home
Talk

0
100pages on
this wiki


Little Busters! Wiki is a collaborative wiki about the Little Busters! series.
The wiki format allows anyone to create or edit any article to improve facts
and information, so we can all work together to create the site.
---
Please don't vandalize our pages or upload any unnecessary images.
Any kind of fanart on our pages is not allowed.
Any edit wars should be avoided by talking with each other.
---
Kudryavka meets her grandfather where he is in hiding and learns that her mother survived the explosion. As her grandfather leaves to pick up her mother, Kudryavka is captured by the rebels and imprisoned in a cave. As her friends keep wishing for her safe return, Riki holds on to the gear she left behind, a memento of her mother's, and it mysteriously appears in Kudryavka's hands, which she uses to break free. Some time later, the uprising is quelled and Kudryavka reunites with her mother for a while before she returns to Japan and rejoins her friends.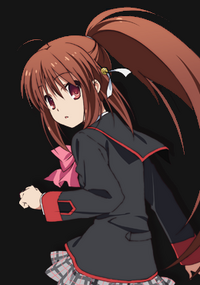 Rin Natsume is the main heroine in the story. She is the younger sister of Kyousuke Natsume and is the only female member out of the five original members of the Little Busters. She does not communicate well and is seen as inarticulate. Due to this, she is anti-social, and is usually seen alone. When playing baseball with the others, Rin is an ace pitcher, although she used to be quite a bad pitcher — her throws would go in completely unpredictable directions - until she gets into a baseball stand-off between Sasami, where she demonstrates two "super-power" pitches, where one of them is a fastball and the other one is her own version of a changeup...
Current Poll
Do you think there will be an After Story for Refrain?
Previous Poll
Who is your favorite Little Busters Member?
| Rank | Poll | Votes | Percentage |
| --- | --- | --- | --- |
| 1st | Kudryavka Noumi | 66 | 19.87% |
| 2nd | Rin Natsume | 60 | 18.07% |
| 3rd | Komari Kamikita | 49 | 14.75% |